What is DALI Intelligent System?
---
If the inductive function is required, a light sensor or occupancy sensor should be added in the system.
1. The composition of DALI intelligent system
DALI intelligent system consists of three parts: control device that giving instructions, control gear that receiving instructions and bus power supply that powering the DALI dimming bus. Three parts should work together in a DALI intelligent system, but the type of control device may vary according to different applications.
2. DALI intelligent system with different devices in various applications 
Applications with fixed setting scenes (meeting room, single room, etc): switch panel + control gear + bus power supply. Different scenes can be selected with such a system. It is economical but don't support real-time data monitoring and modification.
Large applications (hospital, subway, airport, etc): DALI master + switch panel + control gear + bus power supply. It is costly but supports real-time data monitoring and modification of parameter setting via the DALI master.
3. The compatibility of DALI 2.0/1.0 products

4. Comparison table for other intelligent systems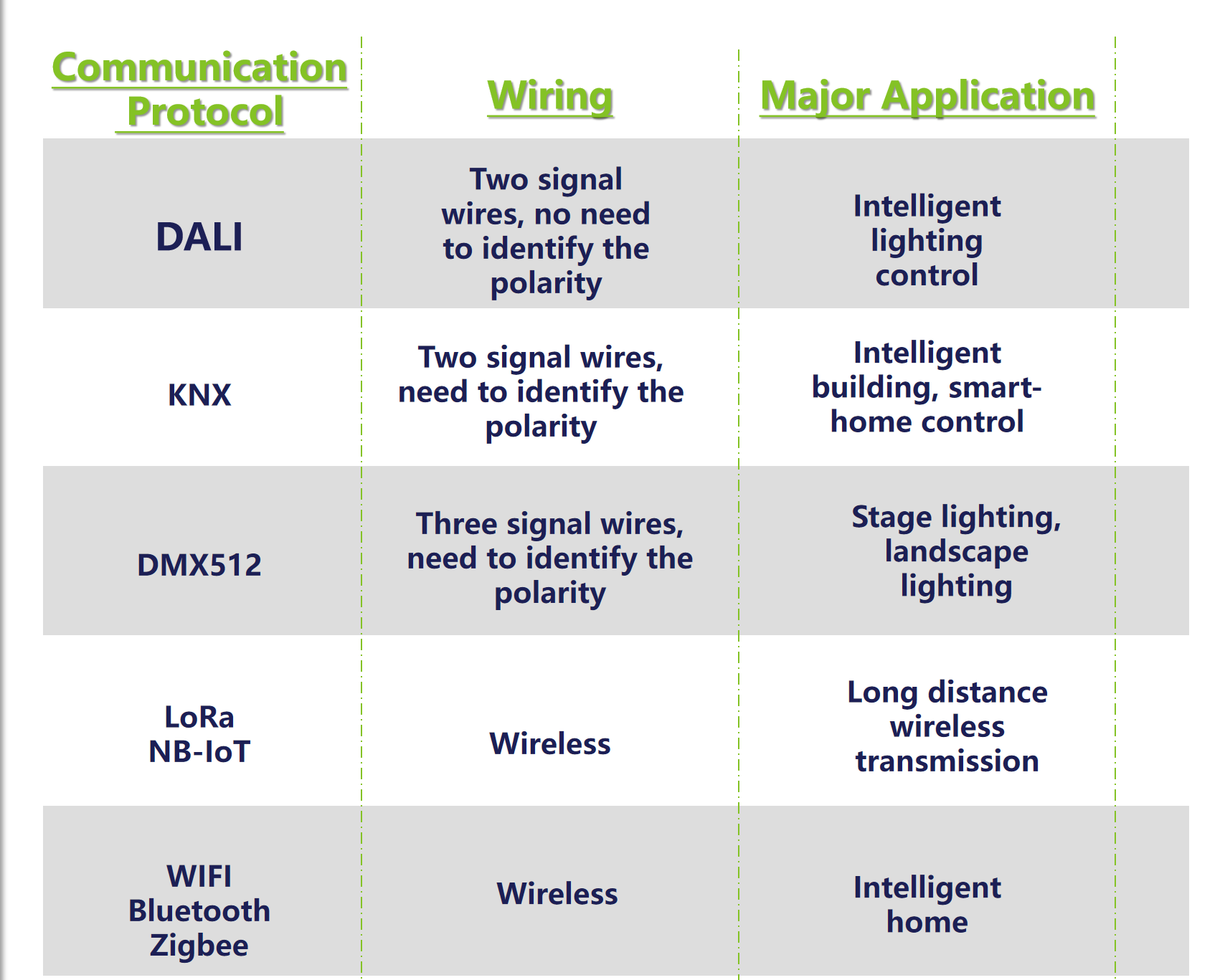 5. How to test a DALI light fixture
Since it takes at least 3-5 minutes to test the full function of one DALI power supply, the whole batch testing will take a long time. In Lifud factory, every driver need to conduct full function test before shipment. Therefore, we suggest that the manufacturers of finished light fixture conduct the test in two ways:
① Use control panel to test the dimming effect and turning on/off function of the whole batch of light fixture
② Use detailed function tester to random check the light fixture
6. The items included in DALI function test
General function test:
Addressing at extremely highand low temperature: to ensure that the address of every light fixture can be identified by the DALI master system normally at extreme environment.
Dimming: 1. check the current whether in the normal range or not by giving instructions respectively including OFF, 1%, 50% and 100% to make sure the accuracy of dimming function; 2. check the brightness of the panel by sending dimming instruction from 0 to 100% with interval of 2s to ensure the smooth dimming effect.
Other test items include power on/off, grouping, scene control, fault feedback, back frame, etc.
Apart from the regular function test, according to the application situation of terminal customers and to ensure the reliability of DALI driver's long term working, LIFUD added 100,000 times of addressing test during burn-in period.
100,000 times of addressing test means sending 100,000 times of addressing instruction. During the addressing test, we can monitor the working state of the driver in burn-in process and at extreme environment. And sending instructions repeatedly can check if there will be fault of the LED driver because of frequent instructions.
So, that's what LIFUD wants to share with you today. Need driver, choose Lifud!